There are numerous projects available to 4-H members, including: foods, clothing, public speaking, models, aerospace, wood science, livestock, health, gardening, and photography.
Four-H members begin by exploring their interests. They may select one or more projects, by the January 31st enrollment deadline, and receive a project manual which guides them through activities. All 4-H projects are age appropriate.
One of the most important aspects of 4-H project work is that the 4-H member decides what they want to learn and do, as they explore their project. This allows the project to be self-paced and gives children important skills in setting and working toward their goals.
Four-H provides youth with opportunities to gain life-skills like decision making, public speaking, and team work through healthy competitions in a fun and educational setting.
What you will find on this page: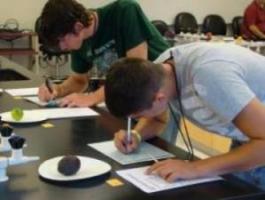 County Record Books
Record Books are a way for youth to gain recognition for 4-H project work. Four-H Record Books are due on or about October 15th of each year to the Valencia County Extension Office and must be submitted in the green 4-H record book cover, which can be picked up at the Extension Office. Call us at 505-565-3002 if you have any questions.
Shooting Sports
All 4-H'ers participating in any Valencia County Shooting Sports Project must take and pass a safety exam presented by the designated County-wide Shooting Sports Leader for the specific project.
Youth may also choose to take Hunter Education Classes. Visit the NM Department of Game & Fish website for available Hunter Education Classes. Call the NM Department of Game and Fish at 505-841-8888 for more information.
Valencia County 4-H Shooting Sports (VC4HCC) practice times, contest information, and results can be found on the VC4HSS website.
County Contest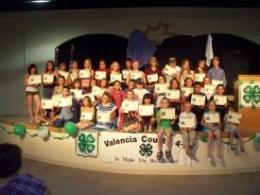 County Contest is a one-day event held each May/June and is open to all 4-H'ers in Valencia County. County Contest offers a variety of judging and speaking contests which help 4-H'ers develop many necessary life-skills which include public speaking, decision making, and teamwork.
A variety of contests are offered to engage 4-H'ers of all different backgrounds. County Contest is a great opportunity to make new friends and learn new things.
4-H members compete in the various contests against members of their same 4-H age divisions. Cloverbuds are also encouraged to participate in County Contest. At the end of the day, 4-H'ers are recognized for the efforts during an Awards Ceremony.
County Contest is the qualifying event for 4-H'ers to advance to District Contest (Novice & Junior 4-H'ers only) and State 4-H Conference (Senior 4-H'ers only). During District and State Contests, Valencia County 4-H'ers compete on teams with Valencia County 4-H'ers and compete against 4-H'ers from across the state.
Resources & Study Guides
District Contests
District Contest is for Novice and Junior 4-H age members and to attend members must qualify at County Contest. District Contest is held in June of each year and rotates location between the seven counties in our district.
State Conference
State Conference is for Senior 4-H age members. To attend, members must qualify at County Contest. State Conference is held yearly, in July at New Mexico State University in Las Cruces.
4-H Indoor Exhibits
Every 4-H Project provides an opportunity for "Indoor Project Competition." 4-H'ers showcase their project work through posters, exhibits, and displays. The 4-H Indoor Exhibition of projects takes place every August during the sanctioned 4-H event. All first place projects qualify to compete at the New Mexico State Fair in September.