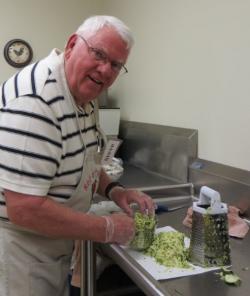 Food & Nutrition
Nutrition is necessary for good health and for preventing disease. Valencia County Cooperative Extension Service nutrition programs provide practical education and information for individuals, families, youth, and all consumers. Our programs deliver hands-on education focusing on food selection, food preparation, meal planning, food preservation, food safety, shopping skills, and the latest research-based nutrition information.
Diabetes Education: Kitchen Creations
Personal & Family Health & Wellness
Personal and family health and wellness is exemplified as a state of complete physical, mental and social well-being -- not merely the absence of disease. Health and wellness is directly connected to quality of life. The Valencia County Cooperative Extension Service's mission is to promote improved quality of life for individuals, families and communities.
Personal & Family Resource Management
Efforts in this area provide an understanding of how individuals and families obtain and utilize resources of time, money, and human capital to achieve higher standard of living and overall quality of life. This area is also concerned with factors affecting the decision-making process, such as availability of resources, life events, living patterns, values, goals, interests, and attitudes of families, and external forces such as public issues, policies, and programs.
Youth Development
Youth development is critical to the future society of New Mexico. Valencia County CES provides a number of youth development programs in classrooms, organizations, and through after school and summer day camps. All programs are geared to build knowledge, self esteem and to encourage creativity through hands on activity and interactions.
---
Contact Information
Crystal Garcia-Anaya
Valencia County Extension Agent for Family, Consumer Sciences (FCS) & 4-H
Email: anayacry@nmsu.edu
Phone: 505-565-3002