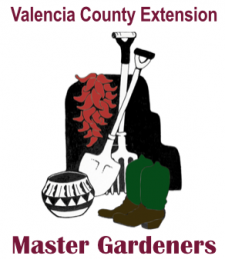 The Valencia County Extension Master Gardener (VCEMG) program is sponsored by the Valencia County Cooperative Extension Service, New Mexico State University under the Agricultural Agent. The purpose of the program is to serve the educational needs of Valencia County's urban (non-commercial) horticultural community.
Local experienced gardeners are provided specialized horticultural training in exchange for a minimum of 40-hours of volunteer service throughout the following year as directed by the Extension Agriculture Agent. The program offers an opportunity for experienced gardeners to gain research-based knowledge, while sharing their knowledge and expertise in the community.
Training topics include soil management, fruit and vegetable production, entomology and pest management, plant pathology, weed identification and control, botany, landscape design, tree care, turf selection and management, and much more.
2015 Master Gardener Scholarship Recipient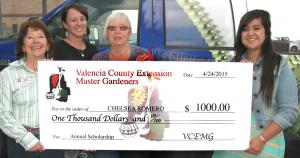 Valencia County Program currently on Sabbatical.

Becoming a Certified Master Gardener
The following information is 'general' information from past program years when there is an Agriculture Agent in the county.
Becoming a certified Valencia Extension Master Gardener (VEMG) requires serious dedication. The program typically begins in January, with approximately 50-hours of training sessions over 14-weeks. Training classes are not a beginning gardening course. Applicants should know the basics of gardening in central New Mexico's challenging environment and be willing to learn the latest horticultural information available. The purpose of training is not to teach you how to garden, but rather to enable you to provide science-based gardening advice specific to Valencia County.
When the program is active, trainees first task is attending training sessions and maintaining a 70% average on all quizzes. In addition, trainees and veterans have been required complete a minimum of 40-hours in horticulture educational community service projects approved by the Valencia County Extension Agriculture Agent per active program year. Other volunteer duties may include clerical duties and committee work.
in the past, each VEMG trainee is required to pay a $150.00-$300.00 application fee.
The NMSU Extension Master Gardener Program provides volunteers training by university specialists enabling them to serve their community by sharing with the public research based information on horticulture, gardening, and pest management.
---
Agricultural Agent (position vacant)
Phone: 505-565-3002
Email: valencia@nmsu.edu