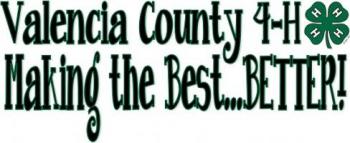 The Valencia County 4-H program & project enrollment period begins October 1st and ends January 31st (no exceptions) of each year for youth ages 9-19. Children 5-8 years of age are encouraged to enroll in a special introductory program called Cloverbuds. Contact the Extension Office at 505-565-3002 for more information on requirements of a participant member.
The sooner you enroll, the more you will benefit from the 4-H Club experience, and the more time there will be to work on 4-H Projects.
4-H Youth Enrollment
Enrollment in the Valencia County 4-H Program is completed at the club level. To enroll during the enrollment (yearly October 1-January 31--NO EXCEPTIONS), review the list of clubs in Valencia County and choose a club (that is open to new members) that meets your family's schedule. Contact the Club Leader (this list is always subject to change) and attend their club meetings. Enrollment forms are available from the Club Leaders and forms must turned into your club leader (not the Extension Office) during the enrollment period--do not miss the January 31st deadline.
The next step is selecting your 4-H Projects. Valencia County requires every new member take the Welcome to New Mexico 4-H project. A wide variety of 4-H projects are of interest and available to youth of all ages.
Next you may print enrollment forms and combined medical and liability release forms, fill them out, and take them to your Club Leader before the enrollment deadline. Enrollments (forms or online) should ONLY be done after speaking with a Club Leader.
4-H Adult Volunteer/Leader Information
Adult Volunteers are vital to the success of the 4-H Program. Do you like welding, cooking, gardening, photography, or working with animals? There are many interesting projects and fun things to do as a part of 4-H. You'll enjoy working with young people, and learn right along with them! Imagine the satisfaction of watching a young person blossom.
The goal of 4-H is to help young people develop as individuals and as responsible and productive citizens in their communities. You can help form the foundation on which productive citizens are built. Four-H Volunteer Leaders have many opportunities to acquire training, learn new skills, attend conferences, and meet people.
This packet, along with the 4-H Adult Volunteer Leader Enrollment form and $5.00 fee is required when enrolling as a first-year 4-H Adult Volunteer Leader. Make check or money order payable to Valencia County 4-H Program and return packet to the Valencia County Extension Office.
---
Sierra Cain
Valencia County 4-H/Youth Development Agent
Phone: 505-565-3002
Email: sierragh@nmsu.edu