Kitchen Creations
Kitchen Creations is a series of four cooking classes for adults with type 2 diabetes. Participants learn to plan and prepare delicious dishes that manage carbohydrates and promote heart health.
In addition to preparing and tasting healthy dishes, class participants receive a workbook and recipe books.
Kitchen Creations is a free program sponsored by the New Mexico Department of Health, Public Health Division, Diabetes Prevention and Control Program and New Mexico State University Cooperative Extension Service.
Interested in participating in Kitchen Creations? RSVP Online or contact Valencia County Extension FCS Agent, 505-565-3002 to register.
Curriculum
Classes Fill Quickly
Deadline: TBA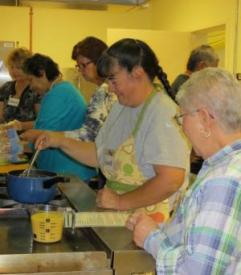 The Kitchen Creations curriculum was written to respond to the needs of people with diabetes in New Mexico. Kitchen Creations consists of four classes, each lasting about 3-hours.
A Certified Diabetes Educator, Registered Dietitian, or a healthcare professional with expertise in diabetes, teaches the nutrition education portion. An Extension Home Economist typically prepares and leads participants in the cooking portion of each class.
Participants prepare and sample recipes in Sessions 2, 3, and 4, so they can practice making balanced meals which help manage blood sugars.
Session 1: Meal Planning
Participants are introduced to the Diabetes Food Guide Pyramid, serving sizes, the 50/50 plate method, and food labels.
Session 2: Balancing Carbohydrates
Participants learn to identify carbohydrate sources and make appropriate choices to reduce simple sugars, hidden sugars, and empty calories. Recipes prepared in class model the 50/50 plate method. For example, the class may prepare a meat, fish, or poultry recipe, a grain or starchy vegetable recipe, a vegetable, a salad, and a dessert using fruit or a sugar substitute.
Session 3: Vegetables, Beans, and Grains
Participants are encouraged to increase consumption of foods in the vegetable group. Foods from the vegetable group contain only small amounts of carbohydrate and can be eaten liberally at meals and snacks. Foods from the grains/beans/starchy vegetable group contain a significant amount of carbohydrate. It is important to balance choices from this group with other lower carbohydrate foods.
Foods from these two food groups provide vitamins, minerals, and fiber. They also contain phytochemicals that have been linked by research to preventing chronic diseases such as cancer, heart disease, and eye disease. Participants are encouraged to prepare recipes using ingredients they may not have used before or cooking methods they may not have tried.
Session 4: Heart Healthy Cooking
Heart healthy refers to choosing foods that are low in fat and sodium and high in fiber. People with diabetes are much more likely to suffer from heart disease than people without diabetes. Eating a diet high in saturated fat and having elevated blood glucose and high blood pressure can contribute to heart disease and other vascular problems.
This session focuses on improving the flavor of food while decreasing saturated fats and sodium. Participants are introduced to herbs and spices, healthier cooking oils, and flavorful cheeses to liven up recipes. Participants prepare meat, poultry, and fish recipes using low-fat preparation methods and herbs and spices for seasoning, rather than salt.
---
Valencia County Family & Consumer Sciences Agent (position vacant)
Phone: 505-565-3002
Email: valencia@nmsu.edu