Leadership
Four-H provides many opportunities for youth to develop as strong leaders. Through club and county 4-H meetings, presentations, projects, and workshops, youth have the opportunity to practice the skills they gain as leaders.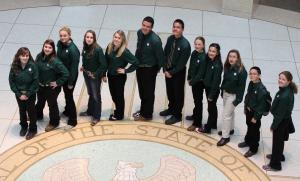 2022-2023 Valencia County
4-H County Council Officer Team
President: Samantha G.
Vice President: Peyton B.
Secretary: Leslie O.
Treasurer: Diego O.
Reporter: Claire L.
Parliamentarian: Preston W.
Historian: Zach G.
Song & Recreation: John Vincent C. & Anne Marie A.
Valencia County Officer Applications Usually Due October 31st yearly to the Extension Office. Contact Sierra for current Office Application.
Scholarships