Cooperative Extension Service Valencia County
Provides the people of New Mexico with practical, research-based knowledge and programs to improve their quality of life.
We specialize in:
Featured Content
During this time of uncertainty regarding the national health pandemic, the NMSU and the Valencia County County Extension Office is doing it's due diligence to honor the recommended social distancing protocols stated by state government. We are still available to serve you via telephone 505-565-3002 and email:
Laura Bittner, County Program Director/FCS Agent: lbittner@nmsu.edu Sierra Cain, 4-H Youth Development Agent: sierragh@nmsu.edu Anne-Marie Wilson, FCS/4-H Agent: awilson@nmsu.edu Brenda Velasquez, Administrative Secretary: brvelasq@nmsu.edu The general county email address: valencia@nsmu.edu
Please feel free to reach out to us at anytime with any questions, Monday through Friday between the hours of 8 am to 4:30 pm.
PSA Safe Grocery Shopping in COVID-19 Pandemic

EDIT from Dr. Sonja Koukel Professor/Extension Health Specialist Interim Associate Department Head: The following is expert information from food scientists who discount some of the recommendations in the video. Key points: 1. Using soapy water to clean food products could lead to health problems, such as mild gastrointestinal irritation with nausea, vomiting, diarrhea and abdominal pain. That's because produce is porous, so it can absorb soap. 2. According to the USDA: Consumers should not wash fruits and vegetables with detergent or soap. These products are not approved or labeled by the FDA for use on food. 3. Other unscientific advice floating around the Internet include using a dilute bleach solution, lemon juice or vinegar to wash produce. There is no scientific evidence that any of these work to kill the COVID-19 virus. And, ingesting bleach is dangerous. 4. The practice of quarantining and then sanitizing food containers before putting them in the refrigerator or pantry isn't necessary. There is no evidence that food or food packaging are transmission vehicles for Coronavirus. 5. Best practice: Wash your hands after handling packaged foods. What to do: 1. Rinse fresh fruits and vegetables with running cold water. That may remove 90 to 99% of what's on the outer skin. 2. Limit your time in the grocery store. 3. Wash your hands after putting away groceries, before preparing a meal, and before you eat.
NEAFCS Covid-19 Resources

The National Extension Association of Family & Consumer Sciences is keenly aware of the professional challenges that our members are facing relative to the COVID-19 pandemic. NEAFCS has a created an ever growing list of focused resource links to help members with questions on a variety of issues and ready our Extension educators to help address concerns within the communities we serve.
ICAN
Video: ICAN Lesson, Portion Control Part 3 of 3

Christine our ICAN Educator informs us on better food recommendations regarding portion control in part 3 of this 3 part series of videos. This lesson is entitled: "Chop once and eat twice or thrice!"
ICAN Pasta Recipe
Try this easy, delicious homemade Pasta Sauce recipe that is low in calories and sugars! This recipe is being shared as part of the first video in a three part series of videos by our Valencia County CES ICAN Program Nutrition Educator, Christine Carter, on Portion Control!
FCS
Video: Drink Your Water!

Anne-Marie Wilson, Valencia County FCS Agent shares some tips on drinking water in this informative video!
4-H
Cloud Dough Slime!
This one is super simple! Just corn starch and conditioner! You can make different consistencies if you play around with the amounts of each!
Today's Weather Report!
What type of weather are you having? Here is a fun activity sheet! Here is a link to the world of weather: The world of weather. http://www.weatherwizkids.com/
Oobleck!
This slime is a fun learning activity in that the oobleck is a solid and liquid at the same time!
Video: Slime!

Ingredients: 1/2 cup white or clear school glue 1/2 cup water 1/2 cup liquid starch Glitter, toys, food coloring as desired Directions: Pour glue and water into a bowl and mix well. Add glitter, toys, food coloring and mix. Add liquid starch. Start stirring with a spoon. It will eventually form a ball. Let rest for 30 seconds. Play away! 🍀
Scented Play Dough!
This recipe is easy and worked very well., you use half of everything for a "smaller" portion, but this makes a lot of fun play dough! Playdough Recipe: Combine 3 cups flour1.5 cup salt 6 tablespoons baby oil 3 teaspoons cream of tarter in a bowl Mix thoroughly, then add 3 cups of water. Once combined, put in saucepan at medium heat and stir constantly. This should start to turn into a "mashed potato" consistency. When hot, add food coloring of choice. I did green for 4H🍀. Stir until everything lumps together then remove from heat (don't over cook!). Put on cutting board (CAUTION it can be hot) and knead while warm. Cut into fun shapes and store in a ziplock baggie or container! (Recipe from Sarah Joy Blog)
Recipes of the Week
Recipes

Here you will find all previously shared recipes!
Thursday, July 9th: Let's Cook with Kids! Honey Chicken Kabobs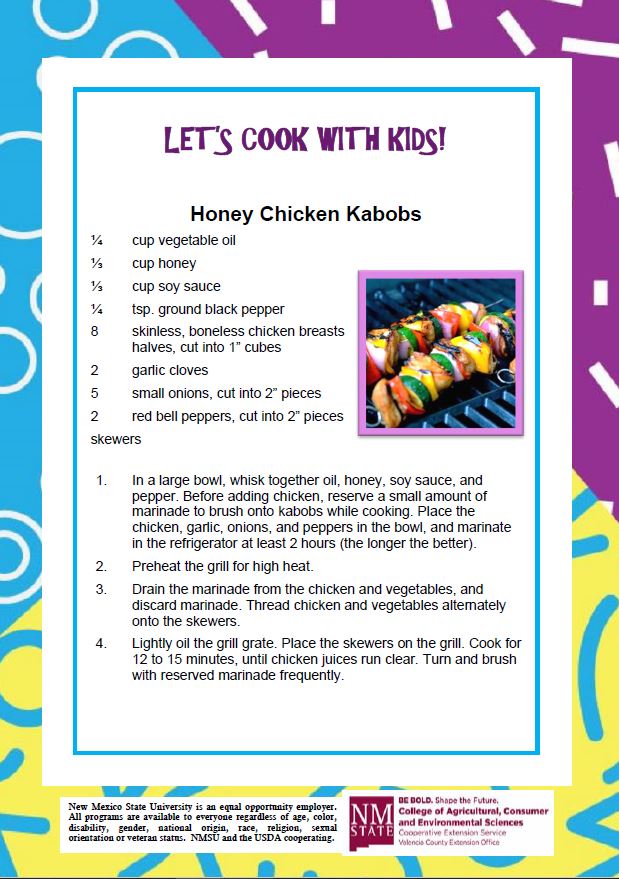 Wednesday, July 8th: Let's Cook with Herbs, Basic Pesto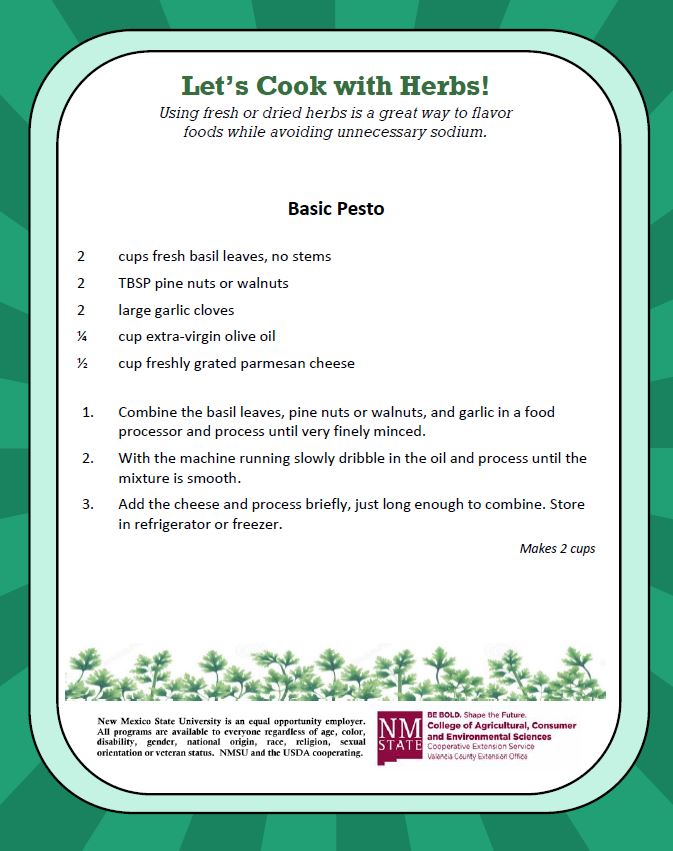 Tuesday, July 7th: Let's Cook with Kids! Sauteed Italian Seasoned Squash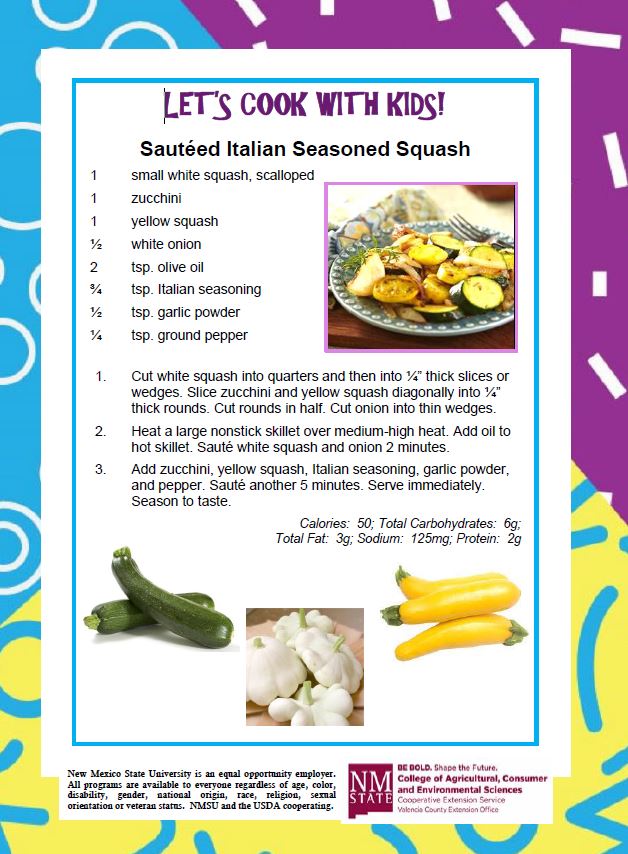 Upcoming Programs
Virtual Nature Buds Summer Camp for 5-8 year olds July 7th-10th at 6:00 pm
Virtual State 4-H Conference
July 13-15, 2020 Join us for Free and attend Virtual Sessions, Workshops, etc. for Senior 4-H members and adults The first 300 youth registered will receive a FREE T-shirt and Swag Bag Check your email from Sierra for details on how to register for this event
Keys to Embracing Aging, An Online Workshop Series
Thursday from June 18-July 30, 2020 Sessions are held from 11:30 am-12:30 pm Topics include: Eating Smart & Healthy, Physical, Brain, & Social Activities, Stress Management, Financial Affairs, and more! Register at: https://aces.nmsu.edu/family/aging
Virtual Parenting Classes
Via ZOOM Ongoing Program on Mondays Beginning: Monday, June 1, 2020 5:00 pm Free | Email Anne-Marie awilson@nmsu.edu for invitation/link to join The first 15 participants to log in will receive a $10 Gift Certificate to McDonald's provided by the St. Clemente Gabriel Project
Meadowlake Kids Club
Due to NMSU & CES Directives this program has been POSTPONED until further notice. Meadowlake Kids Club Tuesdays: 4:00 - 5:30 pm Meadowlake Community Center 10 Cuerro Lane, Meadowlake, NM Free | For youth ages 4-17 and their parents/guardians
---
---
---
Brochure in
English & Spanish
#discoverNMSUextension

Have a favorite NMSU Extension program or story? Share with us how NMSU Extension has impacted your life.
---
Local Calendar
Valencia County
SUBSCRIBE
Extension eNewsletter
Valencia County Extension Service
404 Courthouse Road
Los Lunas, NM 87031
Phone: 505-565-3002
Fax: 505-565-1316
Email: valencia@nmsu.edu